A glass enclosed wine room offers a clean and modern aesthetic to prominently feature a prized wine collection in almost any space.
Ascend to a New Level of Luxury With a Unique Modern Glass Wine Cellar
 Genuwine Cellars blends timeless yet modern design with state-of-the-art craftsmanship to create one-of-a-kind glass wine cellars or glass wine walls that offer opulence and artistry in any home. If you are ready to infuse your space with sophisticated excellence, begin the process with us, and we will walk beside you through every step to design your vision.
Immaculate Display Meets Technical Expertise
Immaculate Display Meets Technical Expertise
For over two decades, Genuwine Cellars has led the industry, creating wine rooms that provide luxury layouts with optimal conditions for wine storage. Our flawless display designs elevate the space and provide elite engineering. The experts at Genuwine Cellars offer a turnkey experience that culminates in a wine cellar built to be loved for a lifetime.
Modern Glass Wine Cellar: Style And Art In One
Innovation through art, with style to spare. Our modern glass-enclosed wine cellar inspires elegance within every aesthetic. Invite sophistication with your very own unique glass wine cellar that showcases prized bottles and air of new-age luxury.
Advantages Of Our Glass-Enclosed Wine Cellar
The impeccable craftsmanship of Genuwine Cellars' refrigerated glass wine wall is seen in every element of its design. From the display space it provides, and the climate-controlled glass wine storage, to the keen attention to crafted excellence and custom detailing, our glass-enclosed wine cellars are unmatched.
Review Our Dining Room Glass Wine Cellar Designs
Explore our dining room glass wine cellar designs and create your own dream addition. Our specialists have worked with collectors around the globe, designing a glass-enclosed wine cellar for their most precious bottles. Our experts have extensive experience in custom projects, be it for a large or small glass wine cellar.
Organize Your Space With Under Stairs Glass Wine Cellar
Maximize your space with elegant efficiency. For the selective collector looking to implement a glass wine cellar under stairs, Genuwine Cellars can utilize an open design concept with a climate-controlled display elevating the organization of the home along with a luxury style.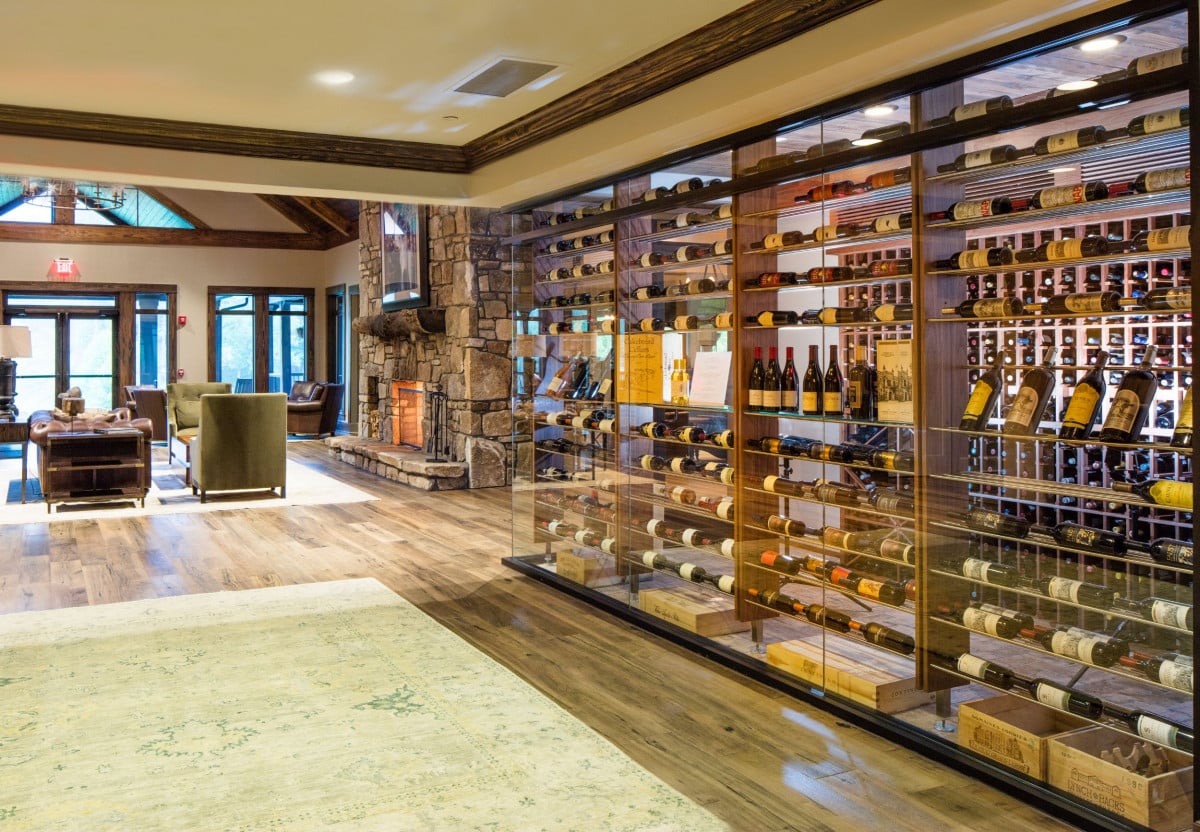 Upgraded Glass Wine Rooms Options
From traditional elegance to modern sophistication, Genuwine Cellars can upgrade your glass wine room to fit your unique aesthetic while optimizing the space and displaying your collection beautifully.
Explore some of our latest creations to our custom minimalist modern wine cellars we have built for wine enthusiasts around the globe.
Frequently Asked Questions about glass wine rooms & Cellars
At Genuwine Cellars, we believe that every dream project deserves to be realized. Allow us to bring your ideas to life and create a custom wine cellar that truly reflects your personal style and vision.